March 23rd, 2016
Mount Pleasant, Michigan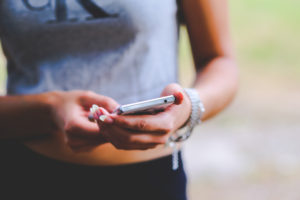 Sexting is a relatively new concept when it comes to the law. "Sexting" refers to texting sexually explicit messages or exchanging sexually explicit photos through text-messaging. This concept has created quite the controversy for teenagers and college students. All 50 states have some type of legal enforcement when it comes to the issue of sexting. However, in States that have not directly addressed the issue of sexting it is very possible the case could be deferred to the states child pornography laws.
According to an article written by the Associated Press, within the last five years 20 states have enacted laws that directly deal with sexting. Last month New Mexico removed any criminal charges when it relates to teen sexting altogether. At least 12 different states are considering sexting laws for the ballot this year and many aim to create "new" class of crime that would apply to young people (AP News).
Generally it's good to keep the following in mind:
Possession of a sexually explicit picture of a minor has legal consequences in all 50 states.
Sending a sexually explicit image of a minor to others has legal consequences in all 50 states.
A teenager who takes a naked picture of themselves and sends it to another teen, has technically committed 3 felony crimes.
A teen who receives a sexually explicit image (even if it was not requested) can be charged with possession and if they send the picture to anyone else they are looking at distribution charges if caught.
If one of the children is 18 (17 in some states) they are adults in the eyes of the law and even though they may be in a relationship with another teen, if that teen is under the age of 18 (17 in some states) there is a much greater risk of strict prosecution.
In Michigan:
Child pornography, also called "child sexually abusive material" in the State of Michigan. Under Michigan law this is know as any depiction, including a photograph or video, of a person younger than 18 engaged in a sex act. "Sex act" is broadly defined to include nudity and any touching of the private parts of the body.
Possession and distribution of child pornography are both crimes. Under Michigan's laws, it is a crime to create, produce, copy, or finance child pornography or to persuade or cause a child to engage in the making of child pornography. In order to be convicted of child pornography, the defendant must know or have reason to know that the child is younger than 18. For example, a 18 year-old who encourages his potentially unsure 16-year-old girlfriend to send a sexually explicit photo could be convicted of persuading her to make child pornography. (Mich. Comp. Laws Ann. § 750.145c.)
It is also a crime in Michigan to distribute or possess with the intent to distribute any obscene material. Although obscenity is not defined under Michigan law it is reasonable to conclude that sexually explicit photos of a minor would fall into this category. Distribution of obscene material is a less serious crime than child pornography.(Mich. Comp. Laws Ann. § 752.365.)
Sexting can also be a crime under the federal law. The PROTECT (Prosecutorial Remedies and Other Tools to end the Exploitation of Children Today) ACT of 2003 to possess, distribute or receive with the intent to distribute any obscene visual depiction of a minor engaged i sexually explicit conduct. (18 U.S.C. § 1466A(a)(1).)   (Other Federal Acts can be found here)
There have been numerous of sexting cases in recent years that have made national headlines. It is important that teenagers and college students are aware of the harsh legal consequences that could stem from sending or receiving sexually explicit photos. The law is quickly trying to catch up with technology when it comes to these issues and in the near future it is likely that there will be more laws that directly deal with sexting.
Tyler Webb
Senior Law Clerk, Levitt Law Firm
Sources:
http://www.criminaldefenselawyer.com/crime-penalties/juvenile/sexting.htm
http://hosted.ap.org/dynamic/stories/U/US_TEENS_SEXTING_LAWS?SITE=AP&SECTION=HOME&TEMPLATE=DEFAULT
http://mobilemediaguard.com/state_main.html