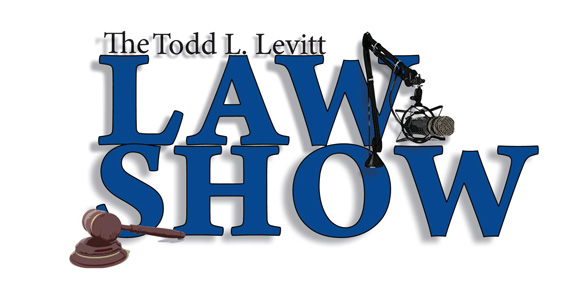 You're at the right place, at the right time!
The  TODD L. LEVITT Law Show airs weekly on Sunday mornings from 9AM-10AM.  Each week the show features new guests on hot legal topics with a major twist of humor.  Tune in to 98.5 WUPS to listen live or stream live on the web.  Also, get podcasts via this blog.  The law show is informative and entertaining.  Attorney Todd L. Levitt along with Attorney Ghazey Aleck and Producer Michael J. present legal information in terms that the general public can understand. With more than 18 years of legal experience in the areas of Criminal Defense and Drivers License Restoration. He is also an Adjunct Professor in the Central Michigan University College of Business, and is know by Central Student's as the "CMU Student Lawyer."  Each Sunday Todd brings conversation and guests that cover the hottest legal issues that are effecting your lives. Each week Todd will feature a segment on Medical Marijuana keeping the voters informed and updated on various changes and court decisions.  The show will feature topics on Family Law, Social Security, Landlord Tenant, Personal Injury, DRIVERS LICENCE RESTORATION, Criminal Defense, and most other areas of the law.
Recent Episodes
Get your legal questions answered!
You got questions and we've got answers!  Visit Our Facebook page and Like it.  Then click on the contact link, fill out the required information, and hit send.  It's that easy!
We will do our best to answer your question on air.  Any individual submitting a question will not have their private information disclosed on air or anywhere else.
Show Schedule

Updated show schedule coming soon!